One Piece Episode 1078 release date and time
Momonusuke establishes himself in Wano in the aftermath of Kaido's defeat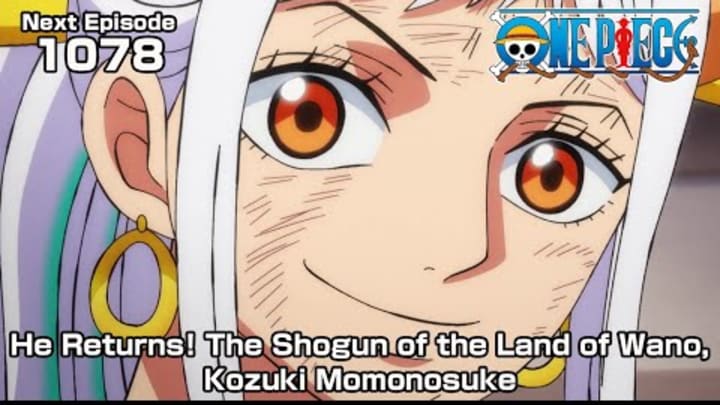 ONE PIECE episode1078 Teaser "He Returns! The Shogun of the Land of Wano,Kozuki Momonosuke" / ONE PIECE公式YouTubeチャンネル
One Piece has adapted the iconic clash between Luffy and Kaido and the people of Wano will finally enjoy freedom after decades of oppression. The upcoming episode will now depict the aftermath of the fight and how Wano will operate as Momonosuke retains the dignity and responsibility of being the head of the Oden clan.
When does One Piece episode 1078 get released?
One Piece episode 1078 is titled "He Returns! The Shogun of the Land of Wano, Kozuki Momonosuke", and is scheduled to be released on Sunday, October 1, 2023, at 9:30 am Japanese Standard Time (JST). and will be simulcast on Crunchyroll in the United States. The episode will also be available in the U.S. on Saturday, September 30, 2023.
The new episode of One Piece will be released in the following time zones found below:
7:00 p.m. Pacific Time 
9:00 p.m. Central Time 
10:00 p.m. Eastern Time Zone 
3:00 a.m. in the UK 
7:30 am India Standard Time 
11:30 a.m. in Australia
What Happened in One Piece  Episode 1077?
In the previous episode, One Piece began with Kaido's defeat as he fell to the ground after Luffy's final attack. Kaido is propelled through the ground and he burrows through the earth and lands in Lava as the show adapts the immense power of Luffy's big final punch. Luffy falls toward the ground as Gear 5 powers down and is caught by Yamato. The people on Onigashima realize Luffy has won and they begin to celebrate as Chopper is overwhelmed by his medic duties.
The episode then shifts to the civilians and focuses on Otoko and Tenguyama as they discuss her father who chose to be captured in order to help Wano gain their freedom in the future. In a flashback, the audience is shown how Otoko consumed a smile fruit and how that began the continuous smile on her face. Her father realizes the situation and opts to eat the fruit to share in the suffering and to console his daughter.
As Wano enters an era without Kaido and Orochi, Momo tells Zunesha not to open the border in order for Wano to rebuild first. The Animal Kingdom continue their fight but an eruption begins undersea and Yamato barges in to stop them. Momonuske then heads towards the civilians and switches from his dragon form to reassure his people that Wano is free and he will lead them. The Akazaya samurai reveal themselves and Denjiro introduces himself as the new shogun and Momonosuke adult form is teased at the end of the episode.